Adapt + Amp
Wireless HD Amplifier
Getting started with your Adapt + Amp
Product Specifications
Rated power

2 x 60W at 8Ω
Frequency response

20Hz ~ 20kHz
Signal-to-noise ratio

>80dB
Input connections

Bluetooth, Aux-in, Optical, Wi-Fi, Ethernet
Dimensions (W x D x H)

210mm x 190mm x 61mm
Weight

1288g
Power supply

100-240V~50/60Hz
Power consumption in sleep mode

<3.0 Watts
Bluetooth version

4.1
Bluetooth transmitter frequency range

2402 – 2480MHz
Bluetooth transmitter power

9dBm
Bluetooth transmitter modulation

GFSK, π/4 DQPSK, 8DPSK
2.4G Wi-Fi transmitter frequency range

2412 – 2472MHz (2.4GHz ISM Band, USA 11 Channels, Europe and others 13 Channels)
2.4G Wi-Fi transmitter power

<20dBm (EIRP)
2.4G Wi-Fi modulation

OFDM, DSSS, DBPSK, DQPSK, CCK, 16QAM, 64QAM
2.4G Wi-Fi network compatibility

IEEE 802.11b/g/n
5G Wi-Fi transmitter power

<20dBm
5G Wi-Fi modulation

OFDM, QPSK, 16-QAM, 64-QAM, 256-QAM
5G Wi-Fi network compatibility

IEEE 802.11 n,ac
5G Wi-Fi transmitter frequency range

5.15 - 5.35GHz, 5.470 - 5.725GHz, 5.725 - 5.825GHz
Note

The ADAPT+AMP is intended to be used for streaming music via Bluetooth and Wi-Fi technology. This product is designed to be instantly on and ready to play music at a moment's notice, therefore, the Bluetooth and Wi-Fi must remain active at all times to ensure proper operation. The ADAPT+AMP is in compliance with the European Union energy legislation. It will enter into sleep mode (networked standby) after 10 minutes without operation, after which it can be re-activated via Bluetooth or Wi-Fi.
Turns your passive loudspeakers into a wireless music streaming system
The Harman Kardon Omni Adapt+Amp is a wireless, HD music amplifier with 2 x 60 watts of stereo amplification. It upgrades your existing stereo loudspeakers to become a wireless HD music system. It also adds access to music services such as Spotify Connect and Chromecast built-in. Simple to set up and easy to operate, the Adapt+Amp is the fastest way to play your music wireless anywhere in your home with one speaker or many!
Seamlessly stream your favorite music all over your home and to any Harman Kardon Omni+ wireless HD products. Listen to different music in any room of your home.
Stream your favorite songs and playlists wirelessly around your home with Spotify Connect, using the Spotify app as a remote. Spotify Connect feature requires Spotify Premium subscription.
With Chromecast built-in, you can cast your favorite music, radio stations and podcasts from your mobile device to your speakers. Chromecast built-in may require subscription(s).
The Harman Kardon Omni Adapt+Amp supports 24bit / 192kHz HD audio streaming. Enjoy a superior audio experience, with higher audio quality than from a CD. Connect your passive loudspeakers, active subwoofer, as well as any analog or digital audio sources.
This compact yet powerful amplifier is designed with the ability to stack up to five units, so you'll enjoy greater flexibility during installation.
Class D digital amplifiers with high current capability to power your existing loudspeakers.
Walk from one room to another and your favorite music will follow at the touch of a button. Simply press the Link button to start the music – no need to find your phone, just press the button.
Supports the latest 802.11AC wireless home networking technology and dual band (both 2.4GHz and 5GHz) Wi-Fi connection, resulting in a faster, robust and more stable wireless connection.
Easily set up your system and control it with the Harman Kardon Controller app. With additional support for WAC on Apple devices and a step by step in-app guide you can quickly start streaming your music.
Images & Videos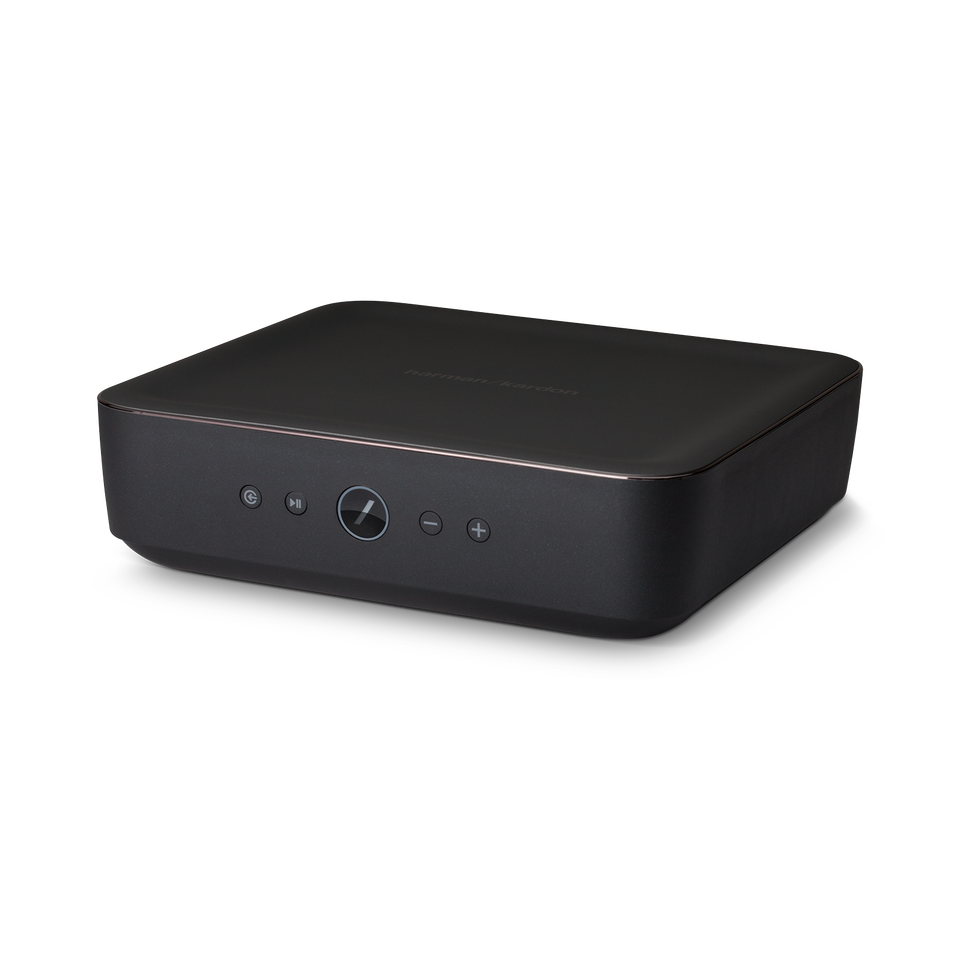 Can't find what you're looking for?
Call us
Talk to a product expert
Call us now at: (800) 422-8027

Mon - Fri - 9:00 a.m 11:00 p.m (E.T)
Sat - Sun - 9:00 a.m 5:00 p.m (E.T)
Chat with us
Mon - Fri - 9:00 a.m 11:00 p.m (E.T)
Sat - Sun - 9:00 a.m 5:00 p.m (E.T)