AB 1
Amplified In-Wall Module For A-BUS Applications
Sold from 2003 until 2013
Product Specifications
System Requirements

Use with AVR 630, AVR 430, AVR 7200, AVR 525, AVR 325 or other A-BUS/Ready audio components via Cat. 5 cable.
Wiring Protocols

TIA wiring specification for T568A at the A-BUS/Ready product end. Connections at the AB 1 are specified on the AB 1.
Infrared Compatibility

38kHz and 56kHz, with talkback.
MSRP U.S.

$149.95 each
Wire type required:

Wire type required
Connection terminals:

IDT type for Category 5/5e wire, screw terminal type for speaker connections.
Speaker wire

Maximum AWG 14, in compliance with any applicable local building code or NEC requirements for in-wall, riser or plenum use.
Speaker sensitivity

Optimized for speakers with sensitivity above 88dB.
Speaker impedance

Suitable for connection to speakers with nominal 6 ohms to 8 ohms impedance.
Depth (in)

2-1/4
Width (in)

1-3/4
Weight (lb)

0.25
Height (in)

4-1/4
Add-on A-BUS amplifier module for replaying sound in any room.
The AB 1 amplifier module adds an unprecedented level of flexibility to your entertainment experience. It lets you replay high-definition sound in any room in your home, and it's compatible with any A-BUS/ready Harman Kardon receiver. You can even connect multiple AB 1 modules to an ABH expansion hub and fill additional rooms with the highest-quality sound.
Thanks to its built-in amplifier, the AB 1 completely eliminates the need to spend money on additional systems. Its embedded power amp supplies power to almost any speaker with a rating of 88 decibels or greater.
For optimal flexibility, the AB 1's built-in infrared (IR) sensor can receive signals from other remote controls, including the Zone II remote that comes standard with any Harman Kardon multichannel-capable receiver. And the module's built-in IR sensor lets you control the volume of loudspeakers located in other rooms.
Designed to match optimal functioning with ease of use, the AB 1 amplifier module offers volume control from its front panel. You will never again need to run around your living room to search for a missing remote control.
A front-panel LED status light glows when the AB 1 module is connected to an activated A-BUS/ready receiver. The indicator also flashes when the unit receives a command from a compatible remote control to confirm that it is working correctly.
A single run of up to 100 feet (30.5 meters) of standard Cat. 5/5e cable is all that you need to carry music through the walls of your house into a room using the AB 1 module. In addition, the AB 1 mounts into a single junction box (j-box) or plaster ring (p-ring), thereby allowing for easy installation in new or existing construction.
Exemplifying the balance among high style, modern design and audio ingenuity, the AB 1 amplifier module embodies the spirit of Harman Kardon innovation, a legacy that discerning audio enthusiasts have revered for almost 60 years. Harman Kardon engineers have consistently advanced the science of sound, developing products that are dedicated to quality, durability and, most importantly, generating rave reviews from audiophiles.
Images & Videos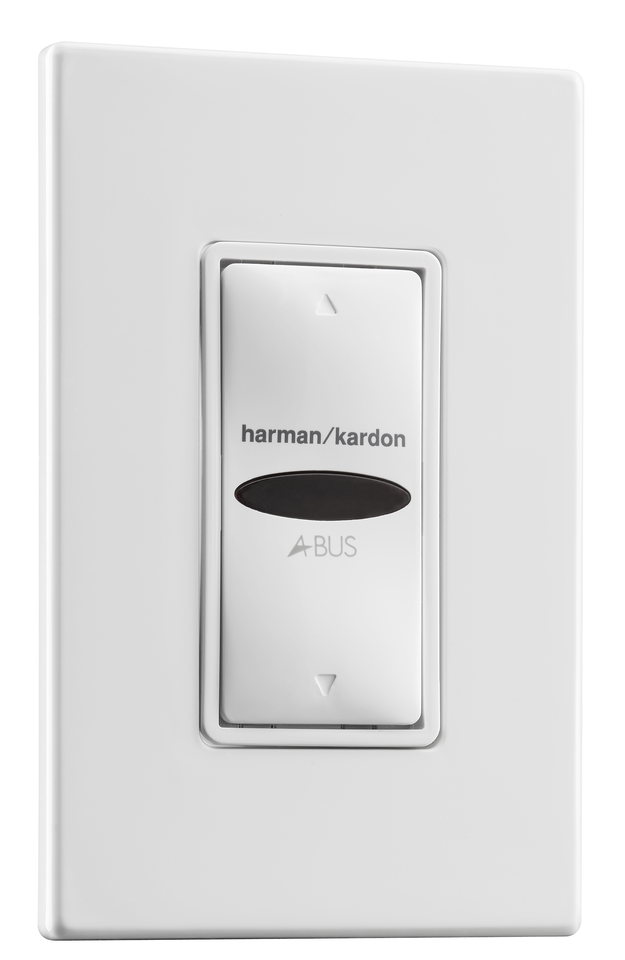 Can't find what you're looking for?
Call us
Talk to a product expert
Call us now at: (800) 422-8027

Mon - Fri - 9:00 a.m 11:00 p.m (E.T)
Sat - Sun - 9:00 a.m 5:00 p.m (E.T)
Chat with us
Mon - Fri - 9:00 a.m 11:00 p.m (E.T)
Sat - Sun - 9:00 a.m 5:00 p.m (E.T)